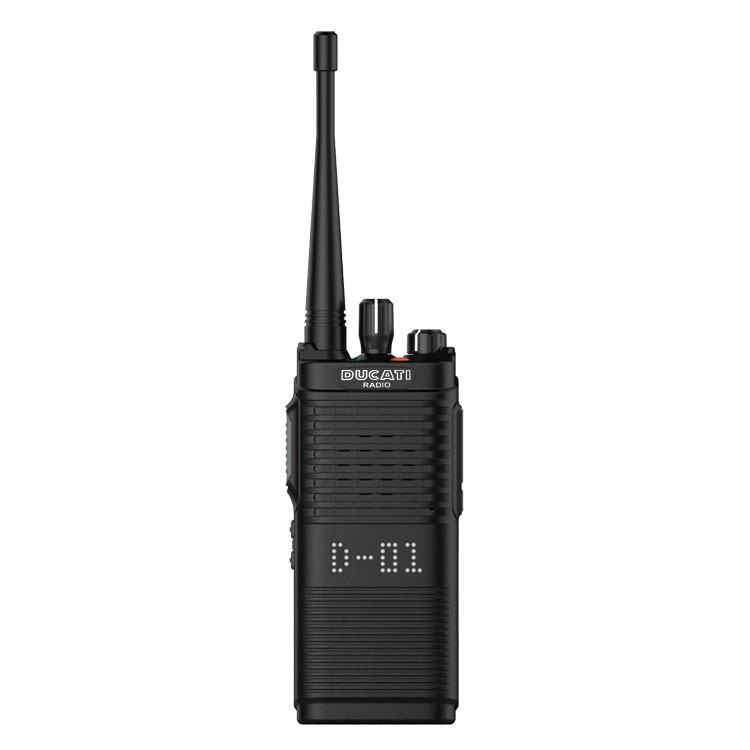 Commercial digital radio, available in VHF and UHF bands
Models available
PD6215 (VHF 136-174MHz)
PD6240 (UHF 400-470MHz)
Main features

LED dot matrix design
1024 digital channels
Support individual, group, emergency call
2000mAh battery
IP56, MIL-STD 810C/D/E/F/G

Optional features

Bluetooth communication
DOM Double time-slot

Resources
Full trunking function
Support full trunking function, including group call, individual call, all call, broadcast call, and priority call, to meet the needs of various communications.
Rich data service for application
Applied advanced Digital PMR technology, and could provides status message, SDS, GPS Tracking, packet data service and support open data applications to satisfy the user demand for communication.
Integrated Bluetooth module
For sharing data wirelessly and instantly devices connectingfor sharing data wirelessly and instantly devices connecting
Full trunking function
With complete separated Tx and Rx channels, PD6200/6400/6600 is the first industry DMR trunking radio that support full duplex communication.
Support GPS position tracking
High positioning accuracy
Superior voice quality
With professional Audio cavity design and big-szie loudspeaker, PD6200/6400/6600 give loud, clear and personalized voice quality, applied with the standard AMBE2+ Vocoder.
High level Reliability protection
All portable radios comply with IP67 & ETSI & MIL810C/D/E/C/G requirements, withstanding submersion testing (1m for up to 30 minutes), and pass of ALT ( Accelerated Life Test) test.
General

Communication protocol standards

DMR Digital trunking ETSI-TS102 361-1,-2,-3

Frequency Band

136-174MHz (VHF)
400-470MHz (UHF)

Channel Spacing

12.5KHz/20 KHz /25 KHz

Operating Voltage

7.4V

Battery Life,
(5-5-90 Duty Cycle,High TX Power)

Analog: >13h;
Digital: >18h

Dimensions
(with standard battery,without antenna)

H*W*D: 128*54.5*35(mm)

Weight
(with antenna & standard battery)

355±1%g

LCD Display

1.8 inch transflective TFT LCD (only models PD6600/6800))

GPS

Optional

Storage

Micro SD

Environmenttal Specifications

Temperature Operating/Storage

-30℃~+60℃/ -40℃~+85℃

ESD

EC 61000-4-2(level 4)
±8kV(contact);±15kV(air)

U.S. Military Standard
(Temperature &Fall &Vibration)

MIL-STD-810 C/D/E/F/G

Military Standard & Water Intrusion

IP67
Receiver

Sensitivity

Analog

0.3 μV (12dB SINAD):
0.22 μV (Typical)( 12dB SINAD):
0.4 μV (20dB SINAD)

Digital

0.3 μV /BER5%

Selectivity

TIA-603/ETSI

60dB @ 12.5KHz/70dB @ 20&25KHz

Intermodulation

TIA-603

70dB @ 12.5/20/25KHz

ETSI

65dB @ 12.5/20/25KHz

Spurious Response Rejection

TIA-603,ETSI

70dB @ 12.5/20/25KHz

Blocking

TIA-603

80dB

ETSI

84dB

Hum and Noise

40dB @ 12.5KHz
43dB @ 20KHz
45dB @ 25KHz

Rated Audio Power Output

1.0W

Rated Audio Distortion

≤3%

Audio Response

+1 ~ -3dB

Conducted Spurious Emission

<-57dBm
---
Transmitter

RF Power Output

VHF High-power: 5W; VHF Low-power: 1W
UHF High-power: 4W; UHF Low-power: 1W

FM Modulation

11KΦF3E @12.5KHz
14KΦF3E @20KHz
16KΦF3E @25KHz

4FSK Digital Modulation

12.5KHz Data Only: 7K60FXD
12.5KHz Data & Voice: 7K60FXW

Conducted/Radiated Emission

-36dBm<1GHz; -30dBm>1GHz

Modulation Limiting

±2.5KHz @ 12.5KHz
±4.0KHz @ 20KHz
±5.0KHz @ 25KHz

FM Hum & Noise

40dB @ 12.5KHz
43dB @ 20KHz
45dB @ 25KHz

Adjacent Channel Power

60dB @ 12.5KHz
70dB @ 20/25KHz

Audio Response

+1 ~ -3dB

Audio Distortion

≤3%

Digital Speech Vocoder

AMBE++ or SELP
---
Accessories
ANT6015H

VHF antenna for PD6200

ANT6040H2

UHF antenna for PD6200

B02187401

2000mAh Li-Ion battery for PD6200

AS100100

110/220Vac power supply EU plug for PD6x00

DC100003

Rapid-rate charging cradle for PD6200

SBC01

Belt clip for PD6200

EAD0100

Earpiece with on-mic PTT & transparent acoustic tube for PD6200

SHH001

Hand microphone for PD6200

EB0100

Bluetooth earset with on-mic PTT for PD6200

SPC03

Programming cable for PD6200